Enlisted Combat Aircrew Roll of Honor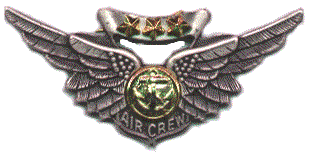 The Enlisted Combat Aircrew ROLL OF HONOR was endowed by RADM Ramage to Honor those who have served distinctly while flying in combat. The ROLL OF HONOR was dedicated aboard the USS YORKTOWN at Patriots Point Naval and Maritime Museum on 10 Oct 1996. All who have served Naval Aviation in the Navy, Marines, and Coast Guard are encouraged to nominate qualified candidates for induction into the ROLL OF HONOR. A selection committee consisting of Capt. Ray Schultz , CDRs Harvey Herzog, Bill Hale and AMSC Lee Hicks meet in June and November each year at Patriots Point and make the final decision on who meets the requirements for selection and induction each Nov. All the board members flew as Enlisted Combat Aircrewmen spanning WWII, Korea and Vietnam.
2003

ADR1 Sam S. Gore

2004

AOC Al Doggett

AO2 Perry Young

AMS1 Ike Eisen

AO2 Al Smith

2005

ATC Jerry Tripp

AO3 Rick Barth

AO3 Rick Gadomski

AT1 Jim Britts

AOC Bob Holdman

AO1 Stan Sanders
---
ELIGIBILITY REQUIREMENTS FOR THE ROLL OF HONOR
1. Candidates shall have been in an enlisted status at the time for which nomination is being made.

2. Must have been exposed to actual combat as an enlisted crewmember of a combat aircraft, including but not limited to air to air, air to sea, air to ground encounters and rescue missions under fire.

3. The action(s) for which nominated must be distinctive in nature and will be determined by the selection board.

4. Each qualifying candidate must be nominated separately as an individual not as part of a whole crew.

Nomination packages can be obtained from:

CAPT M.R. SCHULTZ, CHC, USNR
6212 Craigmont Rd.
Cantonsville, MD 21228-1235
Ph # 1-410-747-2758

Send all completed data to Capt. Schultz. Everyone is encouraged to support this meaningful and long overdue recognition initiative. Possibly your Sqd. Will set up a processing committee to handle all nominations prior to submitting to the ROH selection Committee.
ITEMS TO BE SUBMITTED TO THE BOARD
1. Copy of flight record or document showing combat missions flown.

2. Copy of DD 214/215, and copies of awards citations.

3. Copies of several pictures of nominee, preferable by or in aircraft.

4. Preface of type type missions, aircraft configuration, weapons carried etc to give a background of what you did in combat.

5. Several detailed combat missions under fire, starting before takeoff, during the mission, until after landing with any noted results, Aircraft shot up, Enemy troops, installations destroyed, life saving actions. This is your story so not to detract what you did you can initially insert the names of the Pilots and other crewmen if you like and there after refer to them as Pilot , other Gunner etc.

6. A completed Bio/Nomination Form (bottom).

7. A paragraph or two from one of your Pilots or PC is always a plus.

Petty Officer Steele S. Gore from Heavy 21 has been nominated by CAPT FORSMAN and myself and was selected and will be inducted into the ROLL OF HONOR in Nov 2003 aboard the YORKTOWN in a two day Honor Ceremony.
---
Biographical/Nomination Form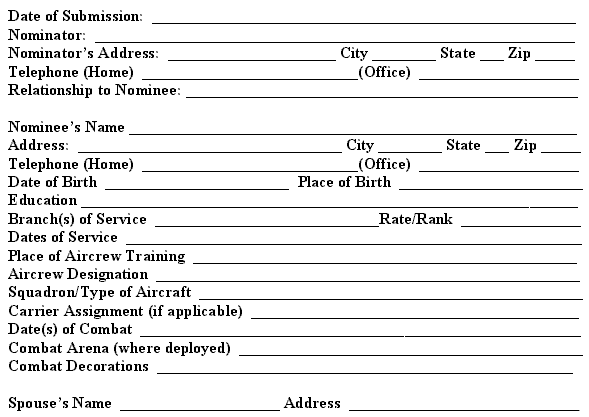 COMPLETED APPLICATIONS SHOULD BE FOWARDED TO:

AMSC Thurman L. Hicks
490 Wards Chapel Rd.
Eatonton, Ga. 31024
(706) 485-8724

If photographs requested with the biographical information are available - please send duplicates so they may be retained on file. Files will be maintained so that nominees can be reconsidered if not selected on initial consideration.
If available, provide a photo of the nominee, preferably taken during the time frame of the combat action.