.:: 2014 42nd Reunion ::.


September 11th through 14th, 2014
San Diego, CA
The VAH-21 2014 reunion will be held September 11th through 14th, 2014 in San Diego, CA. at the Holiday Inn San Diego-Bayside. Feel free to contact me on 951-926-6047 or trippg748@roadrunner.com if you have any questions, etc.

Jerry Tripp
---
.:: 2012 41st Reunion ::.


May 1st through 3rd, 2012
Charleston, SC
Before you know it, it will be time for another TRIM/VAH-21 Reunion. We are giving all of you plenty of time to make your plans. Our next reunion will be held May 1st through 3rd, 2012, in Charleston, S. C. It will be held at the Holiday Inn Charleston-Mt Pleasant Hotel. If you want to make your reservations now you can call 1-843-884-6000. The room rate is $114 per night. You can also wait until our flyer arrives and get at the information from it. Thanks and can't wait to see all of you. Charleston is going to be a lot of fun!

Jan
---
.:: 2010 40th Reunion ::.


June 17th through 19th, 2010
Branson, MO
We have a great hotel to stay in - a large Hospitality room to meet and greet old friends and make new one's. We're all getting a little older, so let's not wait too LOOOONG to join us for a reunion. We will have a brochure out in a few weeks, but in the mean time you can take a virtual tour of the Branson Grand Plaza Hotel (Branson Grand Plaza Hotel). You can even make your reservations at (1-800-850-6646). Tell the operator that you are with the VAH-21 Reunion Group.

We have a fun time planed for the three days,including attending a major show as a group, transportation to and from the show included. We are also offering VAH-21/TRIM patches, polo shirts with a squadron logo embroidered on them, once again VAH-21/TRIM ball hat's for those that never got on, these will have (Branson 2010) on them for those that just like to collect hats, for those that can't make it to the reunion, but would like to have some of the Reunion souvenirs, let me know and we will mail your request to you.

Please take the time to let me know if you can or can't make it , so that we can plan accordingly. Also let me know if you have any changes with address's or phone numbers, so that we can update the Squadron roster and web site. I'll be looking forward to a return email or a call 1-951-926-6047. Most of all lookimg forward to seeing you all in Branson next June.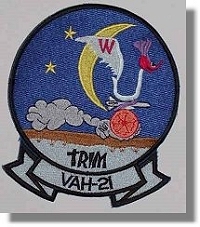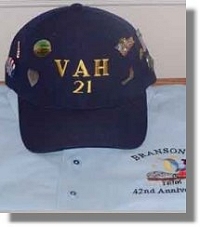 Jerry Tripp
---
.:: 1998 30th Reunion ::.


30th Year Reunion
Pima Air Museum
Tucson, Arizona
TRIM / VAH-21 aircraft #1 (BUNO: 135620) in background.